Music in Education
Music in Education projects allow for exploration of a curriculum subject in a new way and are often cross-curricular, cross-art form projects. Project examples;
Creative Partnerships
Sarah delivered the Year 8 RE syllabus creatively using music, drama and movement in a large secondary school, working with students over two months to learn the 'Holy Spirit' unit of the GCSE syllabus and to write and perform a musical play based on the subject material.
Striking Chords
Sarah has delivered GCSE (and A-level) composition projects in several schools across Greater Manchester both as part of the RNCM's Aim Higher programme and in a freelance capacity with the educational duo 'Striking Chords'. Instrumental techniques on both the piano and flute were discussed, students are able to experiment with live sounds, see first-hand the way in which music is created for specific instrumentalists, and all compositions were premiered and recorded for GCSE and A-level submission by the students.
"The project has been an inspirational spur to doing even more ambitious projects"
Learning about piano techniques
Bridgewater Hall: Cloud Forms
For Cloud Forms at the Bridgewater Hall, Sarah worked over three months with around 20 GCSE music students to write, perform and record 'Debussy-esque' piano compositions using the Impressionist art work of Adolphe Valette and the music of Debussy as inspiration. Some students used these compositions as coursework for their music GCSE, whilst others used the skills they learnt in future composition projects. At the end of the project, the finished compositions were performed in the foyer of The Bridgewater Hall.
"I can't tell you how much this composition project and the content covered within it has helped improve the skills of our GCSE students. They have all commented on how much confidence it has given them with a part of the course that every GCSE student fears!"
Writing a composition at the piano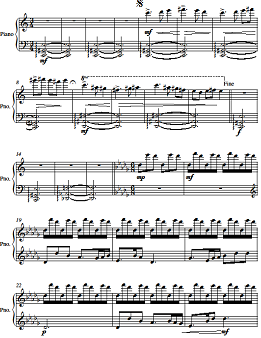 Finished composition in the style of Debussy